It is part of the Hero's/Heroine's Journey to have a wake up call. A day, an event in your life happends that catalyzes you into the next version of yourself.
My wake up call was being laid off and losing my 8 year-long-partner a few weeks apart. After I cried all the tears I had in my body, all the tears that were there without even me knowing about them, I heard the calling. It was a calling about freedom and finding happiness. I didn't know how, but I was dertermined to find it, like my own quest for the Holy Grail.
The journey involved some international relocation, but it was mainly a journey inward. I had been climbing the ladder in the corporate world (up the wrong wall, it turned out), only to find out at the age of 32 that I had no idea of who I really was or what would make me *truly*, *genuinely* happy. So I embarked on a journey to discover it.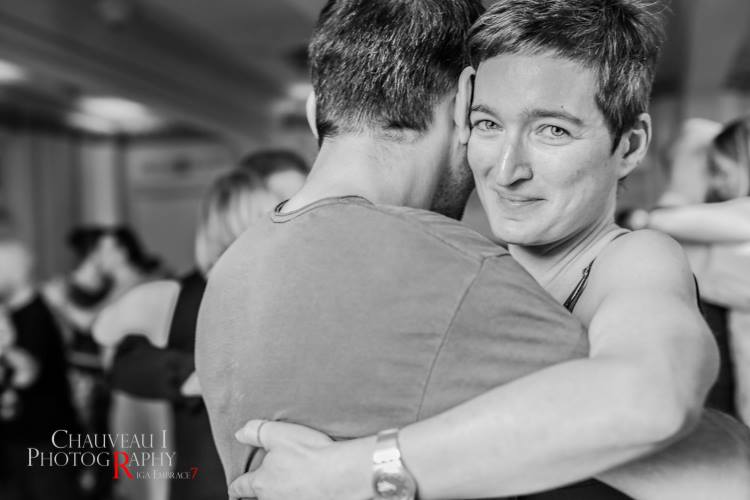 Photo credit: Chauveau Photography
I very quickly started listening to some new voices in my head. One was calling me to try and dance tango. The other one was calling me to let go of the corporate world and set myself free and create my own business. The minute I stepped into my first tango class, I fell irreversibly and deeply in love. With the music, with the dance, eventually, with me.
The minute I sat to train as a professional coach, I fell in love too and discoverd the new calling for my new career path.
I can say that both events changed my life forever. They changed ME forever. I reconnected with deep layers in me that had been buried for so long I couldn't even remember. I reconnected with my creativity, my intuition, my inner sense of knowing, my wisdom, my fierceness. I discovered personality traits I wasn't even aware. I became acquainted with my deepest fears as well as strengths I never imagined I'd have.
Dancing taught me to draw to the parallels between the dancing itself and life. I learned how to listen to the music (and my inner music), how to be connected with my parnter (and myself), how it could drive my creativity as a dancer (and as a woman in business). It reconnected me with my body, my emotions, my feelings, the sensuality of being deeply atuned with the different elements, the flow and grace of it. It taught me trust, risk taking, consistency, playfulness. It opened my heart and I reconnected with my feminine side. In doing so, I found and became at ease with my truth. I found inner peace and a deep sense of alignment and connection to my soul.
However, having my own business has been the most challenging experience I could ever experience, and nobody had warned me that it would be the biggest personal development journey I'd ever face. It took me years of learning, following expert's advice, hitting the same walls again and again to understand that I was not listening. I was not listening to myself as I was developing my business. I was following other people's paths, trying to fit in and trying to like it. I thought I didn't know better and I was trying to find answers outside of me. I resisted it, I didn't trust myself. It's only when I started tuning in again to listen to the deepest layers of my soul that I started getting different results in my business, and when I started to create my own path and growing into the leader I needed to be to make my business successful. It was incredibly challenging, rewarding and fulfilling, and I know it all started with tuning in, getting to know myself intimately and to trust myself.
This Holy Grail quest changed me from the inside out. It taught me to LISTEN to myself, to trust me, and to take action that felt aligned.
This has grown into the heart of the work I do today, where I guide sensitive women in business become the leaders they need to be to create a successful business, without selling their soul to the devil, by listening to their inner music.
Some facts about me:
:: Moved and lived in the UK, Spain, Germany, Belgium and France (+ travelled to over 40 countries)
:: Reinvented my career several times: from assistant in one of the largest European Organizations to EU Marketing Manager in a Fortune 500 company, to professional coach, authentic marketer, trainer and tango fashion designer these days.
:: Renewed my training and qualifications on a semi-permanent basis since 1997: from a Masters in Human Sciences to an MBA, from online marketing, top sales training to renowned Coaching and Leadership schools.
:: Reinvented myself from scratch after a heart-break, immediately followed by 2 consecutive corporate job disasters.
:: Rediscovered what filled me up after a corporate and a life burn-outs.
:: Rebuilt myself from the ground up through dancing tango, and deeply listening to myself and alining my inisde to my outside.
:: Built a life around my multiple passions and multiple talents, created several income streams and managed to keep my freedom, integrity and independence.
:: I've also had to pivot my own business a few times over the last 4 years, because it was not the right idea, because I was getting burned out and depleted from growing my business in a certain way, or simply because I was growing and needed my business to be a reflection of my inner changes.
:: Let alone having to figure out my own identity as a bi-cultural child and later third-culture adult, and then as a personal-development geek fascinated by the human depth.
:: Developed the fantastic ability to look at things from many different angles and perspectives, which allows me to question and challenge pretty much everything!
:: Cultivated the art of pivoting, which is the art of changing direction to follow a new one, both as a tango dancer, and metaphorically, as I was looking for options that would satisfy me more than what I considered the "easy" or "mainstream" ones.
I've thrived my whole life renewing myself and reinventing what was possible. I was a bit of a misfit and quite happy to dance to my own music. I've always been guided by a willingness to find what was more aligned and true to myself. 
Credentials
:: Masters Degree in Human Sciences, Universidad Carlos III (Spain-Germany).
:: MBA by ESIC (Spain).
:: Certified Professional Co-Active Coach (CPCC) by The Coaches Training Institute (CTI), the "Harvard of Coaching schools".
:: Professional Certified Coach (PCC) by the International Coach Federation (ICF), which accounts for an experience of over 750 hours of paid coaching hours.
:: Certified Money, Marketing And Soul® Coach with Kendall SummerHawk
:: Authentic Sales® with Kendrick Shope
:: Leadership Graduate by the Coaches Training Institute.
:: Emerging Essence Dynamics by Troy Yorke.
:: October 2017 – ongoing: Gestalt Psychotherapy Training at Lamar (Spain)
:: Member of the Coaches Training Institute Faculty.
I am highly committed to my own growth as a person, so I can also be the best coach I can be for my clients and regularly invest in programs and trainings that keep me at the top in my field.